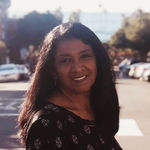 Deanna Santos-Stevenson
Real Estate Agent | DRE 01780767
A little bit about me...
Deanna Santos-Stevenson is a real estate agent and proud Sacramento-area resident of nearly 40 years. Born and raised in Massachusetts, Deanna has a unique perspective in helping families settle into the Sacramento and surrounding areas and relocate from anywhere around the country. As a member of the Caizen Realty team, she is committed to delivering the highest level of customer service possible, answering questions and helping clients stay one step ahead in both the home buying and selling processes.
Deanna holds a Master's Degree in Counseling and has spent her career helping families plan their educational futures. She knows what it takes to plan ahead, stay prepared and help clients reach their goals - skills that she brings to each real estate transaction.
When she's not helping clients find their dream homes, Deanna volunteers for various organizations and travels to visit family for Summers in Cape Cod. If you're looking for an agent who will make the real estate process as seamless as possible, you want Deanna on your side.